Thanet's Social Housing Landscape: A Comprehensive Heatmap Analysis
Thanet's Social Housing Landscape: A Comprehensive Heatmap Analysis
Thanet, a unique and vibrant district in East Kent, England, presents a diverse and dynamic social housing landscape. This article aims to explore Thanet's social housing distribution, highlighting both local authority and housing association homes. Through the innovative use of heatmaps, we offer an insightful visual breakdown of social housing across the main towns in Thanet, as well as the district as a whole.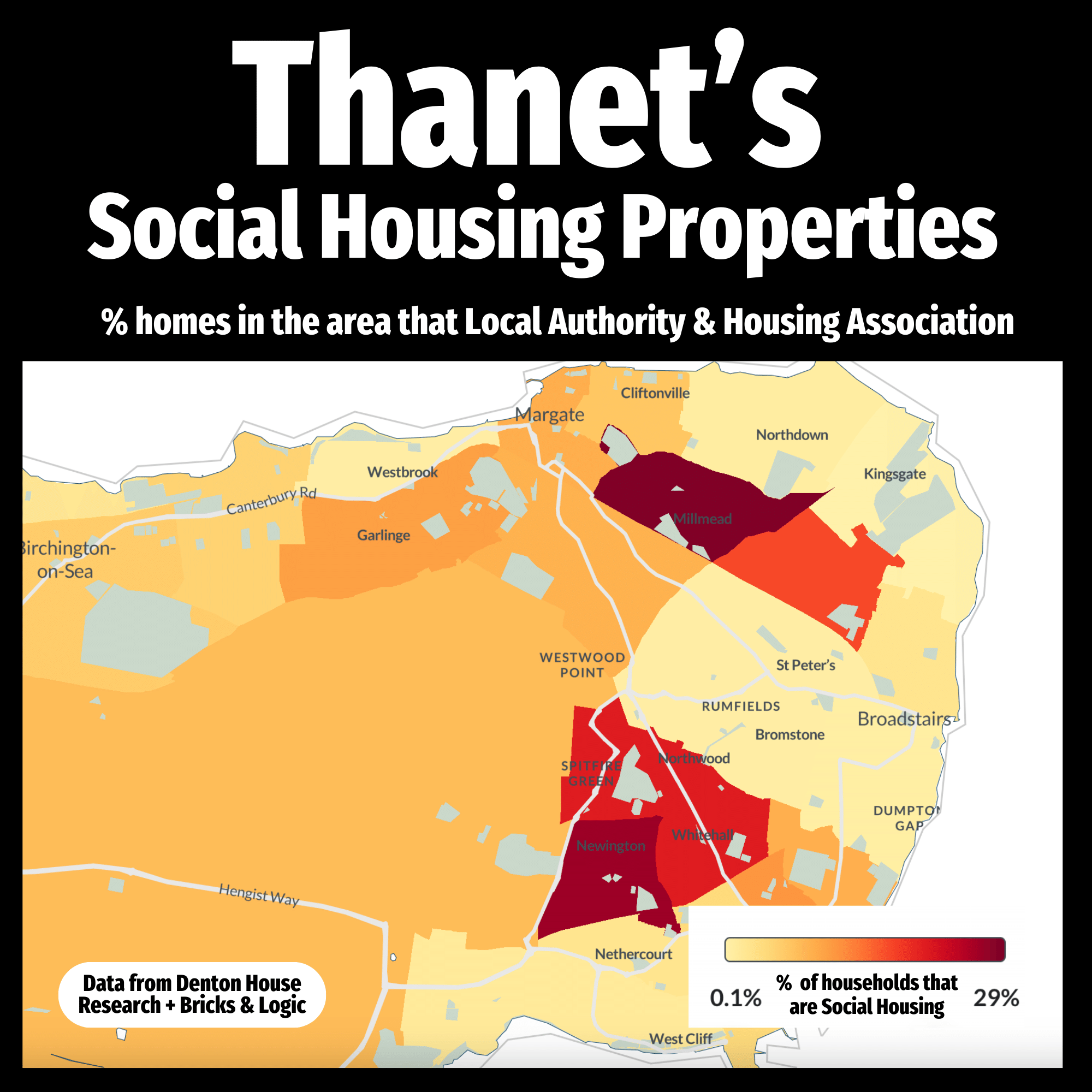 Heatmap Overview
Our heat maps provide a vivid representation of social housing distribution in Thanet. They reveal patterns and concentrations of social housing across various towns, including Margate, Ramsgate, and Broadstairs. These heatmaps are more than just visual aids; they are tools that help us understand the allocation and availability of social housing in different areas.
Local Authority and Housing Association Homes
The social housing in Thanet is a mix of local authority and housing association homes. Each plays a crucial role in providing affordable housing options to residents. The heatmaps show a balanced distribution between these two types of housing, indicating a concerted effort to meet diverse housing needs.
Town-by-Town Analysis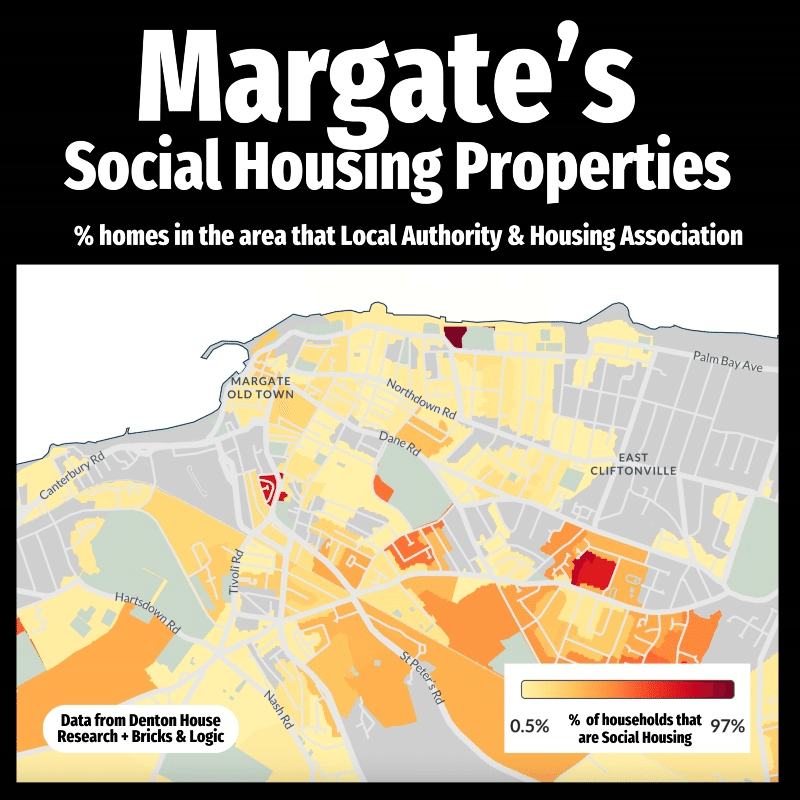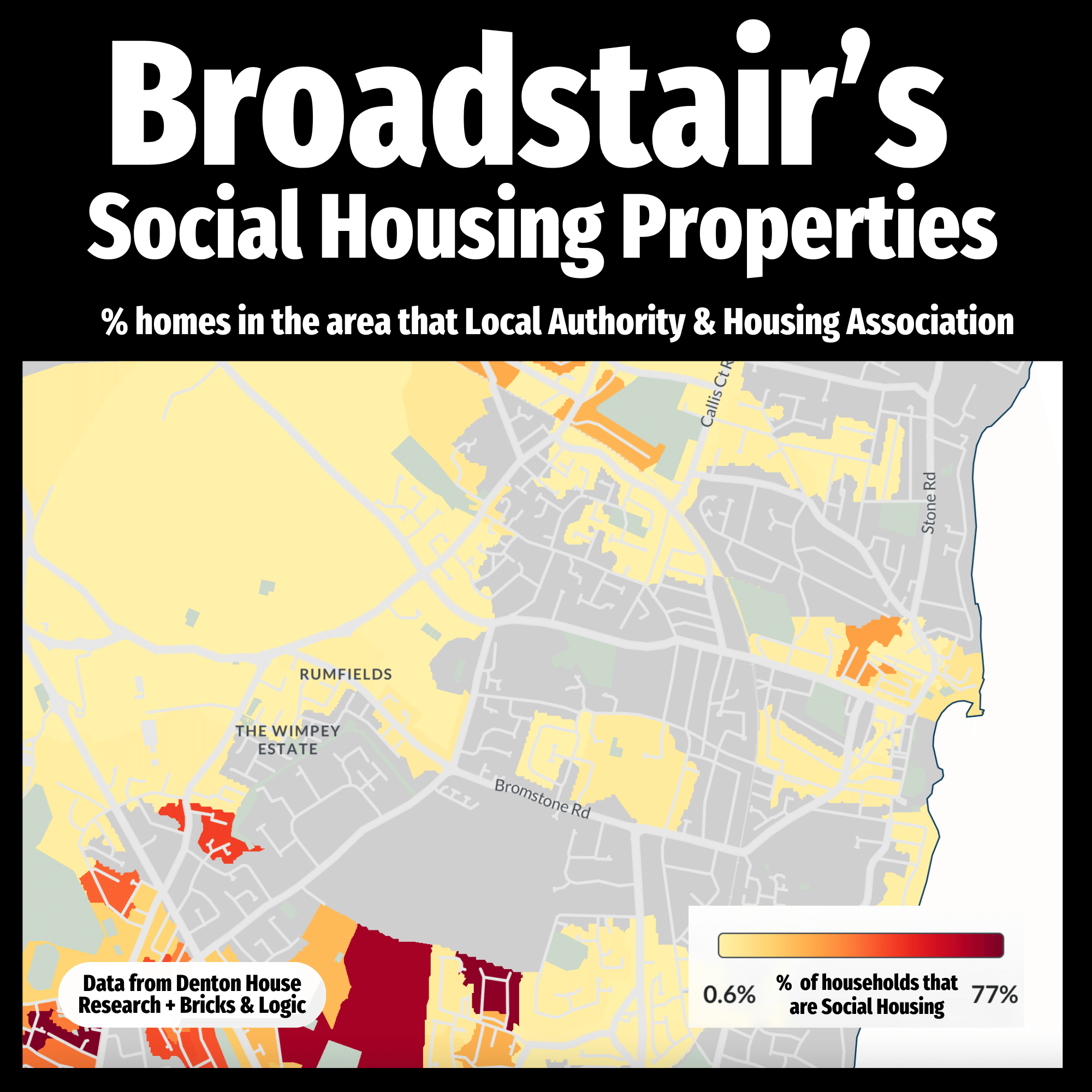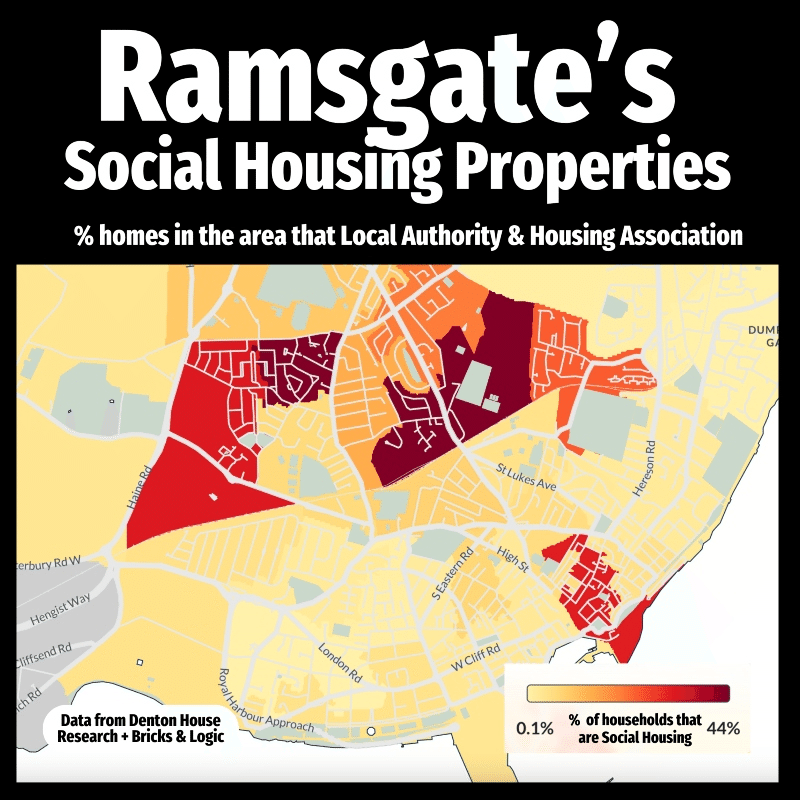 Each town in Thanet has its unique social housing characteristics. For instance, Margate might show a higher concentration of housing association homes, while Ramsgate has a larger footprint of local authority housing. This town-by-town breakdown helps identify specific needs and opportunities for development in each area.
The Role of Social Housing in Community Building
Social housing in Thanet is more than just accommodation; it's a cornerstone of community building. These homes provide stability and a sense of belonging to residents, contributing to the overall health and vitality of the community. The heatmaps underscore the importance of social housing in fostering inclusive and supportive environments.
Broad Spectrum of Housing Options
Thanet's social housing landscape is diverse, reflecting a broad spectrum of housing options. This diversity is crucial in catering to the varied needs of the district's residents, from families and the elderly to individuals with specific needs.
Personal Stories and Community Insights
Behind every heatmap data point is a personal story, a family, an individual who calls Thanet home. These stories are integral to understanding the impact of social housing on real lives. We encourage residents to share their experiences and insights, enriching our understanding of home, community, and belonging in Thanet.
Conclusion
The heatmaps of Thanet's social housing landscape reveal a district deeply committed to providing diverse and accessible housing options. As we navigate the vibrant mix that makes up our towns, these insights not only inform but also inspire. They highlight the valuable role of social housing in shaping a community where everyone has a place to call home.
Call to Action: Share Your Thanet Story
We invite you to contribute to this ongoing narrative. What's your Thanet story? Share your experiences and thoughts using the hashtag #SocialHousingInsights. Let's continue to explore and celebrate the unique tapestry of our community together.
Please Click Here to link seamlessly to hundreds of interesting community and property-related articles, videos, and pictures on our local blog/property insights page, Thanet coastal interactive tour, Up-to-date latest properties for sale and to rent, and much, much more.
Before you go, we would love you to comment or like this article. Please feel free to give your thoughts, helpful comments, or even suggestions of articles you would like us to write about.
About Cooke & Co
Cooke & Co, a liked and respected estate agency trading since 1992, is conveniently situated in the picturesque seaside district of Thanet. We proudly operate from our local offices in the region's primary towns, namely Margate, Broadstairs, and Ramsgate. Additionally, our extensive reach encompasses the charming areas of Westbrook, Westgate, Birchington, Monkton, Manston, and Minster. Our presence in these diverse locales enables us to offer an enriched understanding and comprehensive service to the property market in these prime coastal towns and villages.
Contact our offices at the following numbers: