Navigating Todays Thanet Housing Market: Expertise Matters!
Navigating Todays Thanet Housing Market Expertise Matters!
Our latest sales article sales piece explains how the expertise and experience of an agent are crucial in a tougher market.




Remember those post-lockdown days when selling a property was as easy as putting it on a property portal and waiting for the phone to ring off the hook?
Those days are behind us.
The selling market has become increasingly challenging, demanding more than just a 'For Sale' sign outside and that property portal listing.
Today, selling a home in Thanet requires skill, expertise, hard work and the ability to adapt to an ever-changing landscape and financial climate.
The good news is if you are thinking of selling within the next couple of months, we're here to help.
Below are five ways exceptional estate agents can help you sell your home in this challenging market.
A top-notch estate agent doesn't just list your property; they tailor a personalised marketing strategy to showcase your home in the best light. From eye-catching photography to targeted social media campaigns, they know how to reach the right buyers.
Negotiating the best price requires finesse and experience. A skilled agent can navigate the complex world of offers and counteroffers, ensuring you get the best possible deal without scaring away potential buyers.
In-depth Thanet knowledge
Understanding the local market trends, pricing and community insights is vital. A knowledgeable agent uses this information to value your home correctly, position it intelligently and ultimately find the right buyer for you.
With you every step of the way
An experienced agent provides ongoing support, answers your questions and guides you through the process, making it as seamless as possible.
A talented agent knows how to navigate and maintain progress through the sale process. From accurate valuations, proper staging, handling the legalities and keeping all parties informed, they ensure everything is in place to sell your home quickly and efficiently.
The difference a skilled estate agent, like those at Cooke & Co Estate and Letting Agents , can make is clear, especially when the property market has slowed down.
Thinking of moving?
Don't navigate these challenging waters alone.
Contact us today, and let our friendly, knowledgeable and experienced team guide you every step of the way.
Thanks for reading.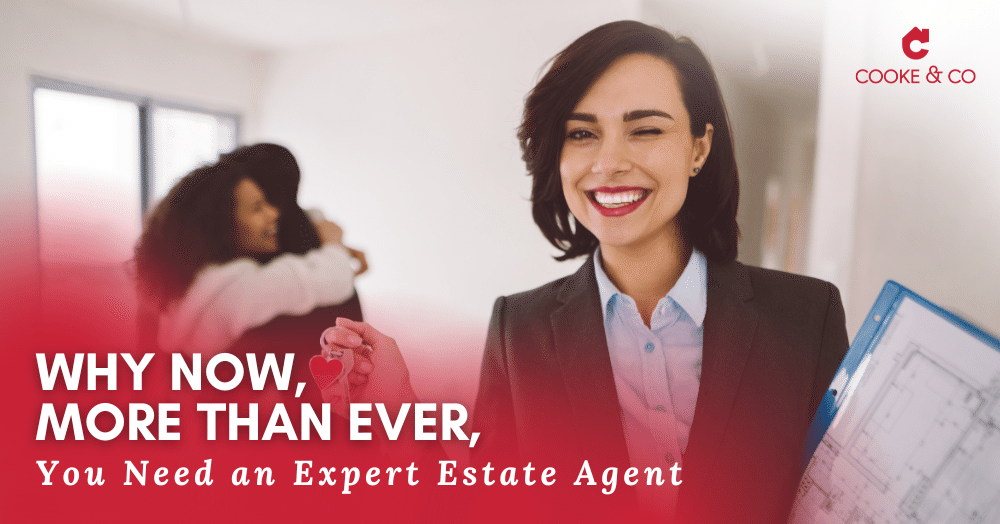 Please Click Here to link seamlessly to hundreds of interesting community and property-related articles, videos, and pictures on our local blog/property insights page, Thanet coastal interactive tour, Up-to-date latest properties for sale and to rent, and much, much more.
Before you go, we would love you to comment or like this article. Please feel free to give your thoughts, helpful comments, or even suggestions of articles you would like us to write about.
About Cooke & Co
Cooke & Co, a liked and respected estate agency trading since 1992, is conveniently situated in the picturesque seaside district of Thanet. We proudly operate from our local offices in the region's primary towns, namely Margate, Broadstairs, and Ramsgate. Additionally, our extensive reach encompasses the charming areas of Westbrook, Westgate, Birchington, Monkton, Manston, and Minster. Our presence in these diverse locales enables us to offer an enriched understanding and comprehensive service to the property market in these prime coastal towns and villages.
Contact our offices at the following numbers: