Mastering The Art Of Property Negotiation: A Thanet Estate Agent's Insight
Mastering the Art of Property Negotiation:
A Thanet Estate Agent's Insight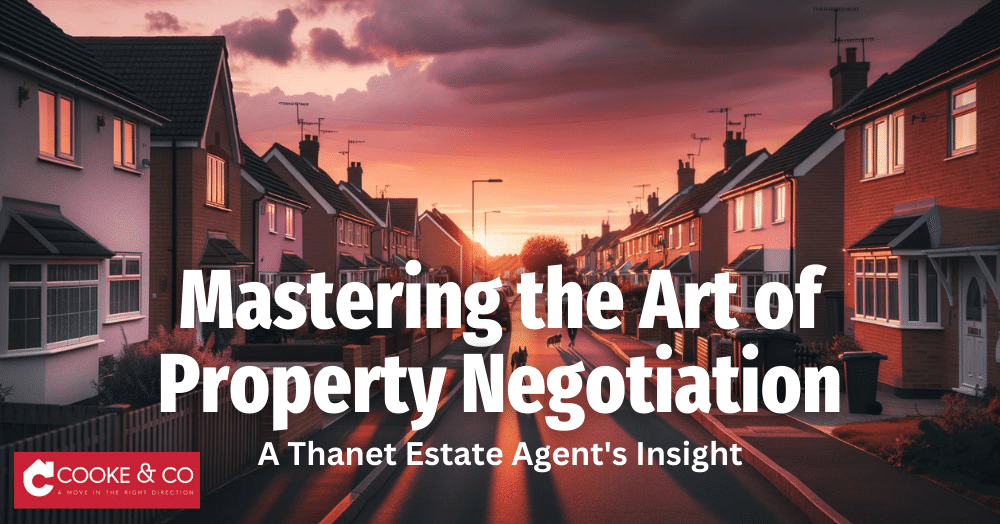 Entering the world of property negotiation can appear intimidating, especially for those unfamiliar with the intricacies of the Thanet property market. However, with a few expert tips, you can navigate the terrain and potentially secure your Thanet dream home at a favourable price.
Firstly, to be taken seriously in negotiations, get an offer on your existing property. Contrary to common fears, selling doesn't render you homeless. It merely signifies you've accepted an offer, not legally committed, and physically moved out.
Knowledge is power. Before making an offer, conduct thorough research. Analyze the local Thanet market value by exploring property portals such Rightmove, Zoopla and On The Market. Also consult local estate agents like ourselves. Compare similar properties in the vicinity, considering attributes such as the potential to extend, bedroom count, bathroom numbers, and the home's gross square footage (the area of every property can be found in the Energy Performance Certificate). Understand the property's demand; a prolonged market presence might hint at reduced demand, making it apt for negotiation.
Engage with the seller's estate agent to glean insights into the property's desirability.
Consider factors beyond the property's structure. Factors like the state of the electrical wiring, the boiler's condition, and the roof's repair status can all influence the final price. Obtain estimates in advance to bolster your negotiation.
Make your advantages clear. Sellers appreciate proactive first-time buyers, those without chains, and cash buyers. If you possess such advantages, utilise them.
Resist the allure of falling in love with a property. The emotional attachment might lead you to pay more. Similarly, maintain discretion about your fondness for a property and budget. Revealing too much can weaken your negotiation stance.
If you require a mortgage, make sure you get a Mortgage Agreement In Principle before you negotiate. Again, that will put you in a very much stronger position.
Never go in at your best offer as that will provide room for upward negotiation. An informed understanding of the property's valuation and the seller's eagerness can guide your initial bid.
Patience is paramount. Resist hasty decisions, and remain open to walking away if the price isn't right. Remember, new properties emerge on the Thanet market regularly.
While property negotiation is a delicate dance, with the right steps, you can secure a favourable deal. If you're venturing into the Thanet property market, consider our esteemed agency which has been helping Thanet Owners and Buyers since 1992. We offer invaluable insights, ensuring smoother transitions for our clients. Reach out today, and let's make your property dreams come true.
Please Click Here to link seamlessly to hundreds of interesting community and property-related articles, videos, and pictures on our local blog/property insights page, Thanet coastal interactive tour, Up to date latest properties for sale and to rent, and much, much more.
Before you go, we would love you to comment or like this article. Please feel free to give your thoughts, helpful commen ts, or even suggestions of articles you would like us to write about.
About Cooke & Co
Cooke & Co, a liked and respected estate agency trading since 1992, is conveniently situated in the picturesque seaside district of Thanet. We proudly operate from our local offices in the region's primary towns, namely Margate, Broadstairs, and Ramsgate. Additionally, our extensive reach encompasses the charming areas of Westbrook, Westgate, Birchington, Monkton, Manston, and Minster. Our presence in these diverse locales enables us to offer an enriched understanding and comprehensive service to the property market in these prime coastal towns and villages.
Contact our offices at the following numbers: