Master The Art Of Buying And Selling Homes Simultaneously In Thanet
Master the Art of Buying and Selling Homes Simultaneously in Thanet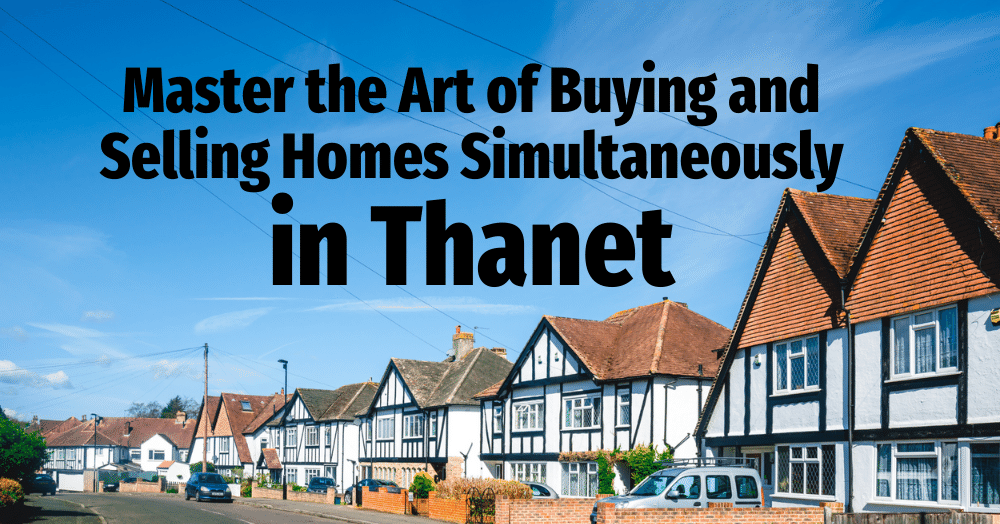 You've seen the perfect home of your dreams that you want to buy, but you still need to put yours on the market. Juggling a home purchase while selling your existing property in Thanet can feel like walking a tightrope.
But don't sweat; we've got a roadmap to ensure you navigate both processes seamlessly.
Know Your Thanet's Home's Worth
First things first, you need a precise valuation of your current Thanet home. While online estimates are convenient, nothing beats an in-person assessment from a Thanet estate agent. We'll help you determine an accurate selling price that considers every unique feature of your home.
Assess Your Financial Standing
After your property is valued, it's time to determine your budget. Consider your expected sale proceeds, existing savings, and necessary affordability checks to define your spending limit.
£££££ Calculations
Moving home involves costs—estate agent fees, conveyancers, and surveyors, not to mention stamp duty / land transaction tax / land and building transaction tax and moving expenses. Having a rough budget upfront helps you plan more efficiently.
Prep Your Thanet Home
Put yourself in the buyer's shoes. What needs improvement in your Thanet home? Tackle those minor repairs now to avoid roadblocks later.
Assemble Your Dream Home Move Team
Underestimating the importance of the right professionals can be a pitfall. Your transaction will likely involve an estate agent and conveyancer. Choose wisely.
Paperwork Prep
Ready your property documents like Land Registry details, planning permissions, building certificates, ID, management company info (if leasehold), window and insulation guarantees, title deeds and EPC certificates. This paperwork speeds up the transaction, saving you from potential hiccups. If you need any help with this, we can help.
Market and Search
Inform your Thanet estate agent that you're ready to market your property. Keep an eye out for reserve properties if the one you want to buy sells before you sell yours, but prioritise selling your existing home first.
Sale and Offer Negotiation
What if you get multiple offers? While the highest offer may seem appealing, consider the buyer's position too. Are they ready and motivated to move? Take this into account when accepting an offer if you haven't already. Finally, if you haven't already, make an offer on the one you want to buy. Again, we can help you with that.
Mortgage and Conveyancing
Upon accepting an offer on your home and getting an offer accepted on the one you want to buy, finalise your mortgage and kickstart the conveyancing process. This step is crucial and often time-consuming, so act promptly.
Surveys and Final Steps
Depending on whether you are taking a mortgage or not, instruct a surveyor for your new home and settle on exchange and completion dates. Then, gear up for the big move.
In a nutshell, both buying and selling a property in THanet can be a breeze with proper planning and the right team.
Are you interested in learning more?
Please Click Here to link seamlessly to hundreds of interesting community and property-related articles, videos, and pictures on our local blog/property insights page, Thanet coastal interactive tour, Up to date latest properties for sale and to rent, and much, much more.
Before you go, we would love you to comment or like this article. Please feel free to give your thoughts, helpful comments, or even suggestions of articles you would like us to write about.
About Cooke & Co
Cooke & Co, a liked and respected estate agency trading since 1992, is conveniently situated in the picturesque seaside district of Thanet. We proudly operate from our local offices in the region's primary towns, namely Margate, Broadstairs, and Ramsgate. Additionally, our extensive reach encompasses the charming areas of Westbrook, Westgate, Birchington, Monkton, Manston, and Minster. Our presence in these diverse locales enables us to offer an enriched understanding and comprehensive service to the property market in these prime coastal towns and villages.
Contact our offices at the following numbers: