How To Create Window Box Magic At Your Thanet Home
Choosing Your Plant
Your window box can be as simple or complex as you like depending on your personal taste and gardening know-how. Some people choose one type of flower or plant, while others opt for three or four varieties in varying colours and textures to create a more elaborate display.
One key thing to consider is how much sun your window ledge gets throughout the day and to plant species that will thrive in these conditions. Sun-loving plants include petunias, salvias and lavender, while shade-loving varieties include ferns, cyclamens and orchids.
Good Enough to Eat
If flowers aren't your thing, plant chillis, tomatoes or strawberries instead or create a mini herb garden by planting parsley, mint, basil and thyme.
Watering
Window boxes can dry out quickly, so water regularly. If you're unsure if your plants are thirsty, dip your finger in the compost. If it feels dry, give them a soak.
Types of Planters
You can get window boxes made from wood, terracotta, metal or plastic. If you opt for a wooden window box, improve its longevity by giving it a coat of moisture-protecting sealant and placing a plastic liner inside before adding potting soil.
Also, check your window box has holes in the bottom, as these will allow excess water to drain away; this will minimise the chance of your plants developing root rot.
General Upkeep
Keep your plants well-fed by adding liquid fertiliser every week or so. When the blooms on your plants start to wilt, cut them off; this is called deadheading and will encourage more flowers to grow. And, if you spot any pests, act quickly; once insects get into a confined space such as a window box, they can run riot.
Are you a keen gardener? We'd love to see snaps of your garden in bloom. Please share them with us on social media at @COOKECO.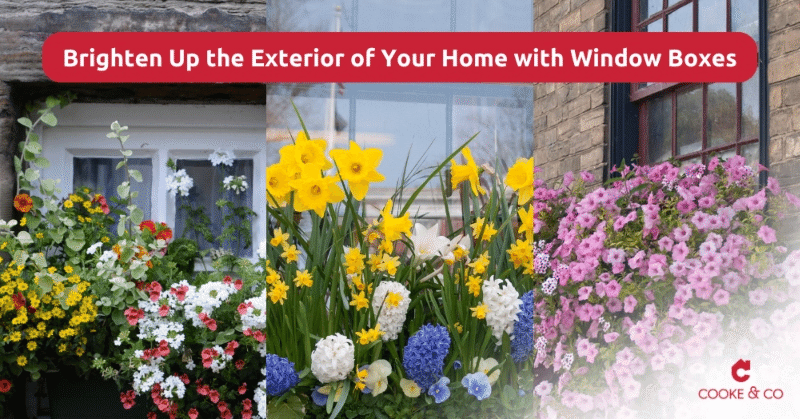 Please Click Here to link seamlessly to hundreds of interesting community and property-related articles, videos, and pictures on our local blog/property insights page, Thanet coastal interactive tour, Up to date latest properties for sale and to rent, and much, much more.
Before you go, we would love you to comment or like this article. Please feel free to give your thoughts, helpful comments, or even suggestions of articles you would like us to write about.